supernode
SNS*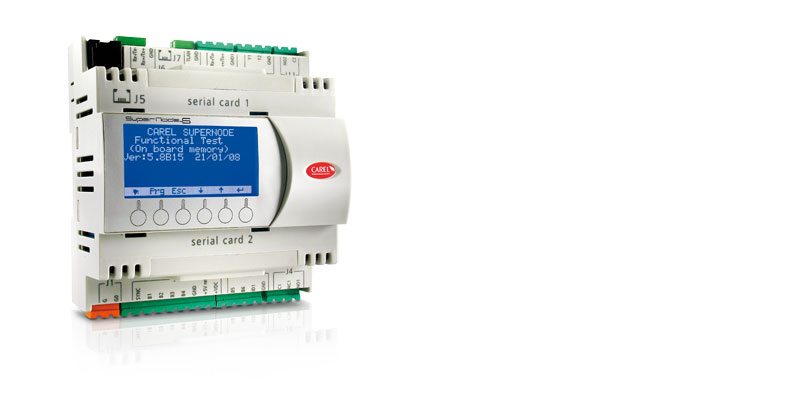 General characteristics

Supernode is a flexible programmable controller, ideal for the most demanding connectivity applications thanks to its 6 serial ports: 2 integrated RS485 ports (one of which optically-isolated), 2 slots for BMS plug-in cards and 2 USB ports (Main and Secondary). It also features numerous I/Os that allow it to be integrated into systems where data needs to be acquired from simple devices without serial communication capability (e.g. energy meters with pulse output).
Compact (6 DIN modules), the device is available with and without built-in 132x64 pixel display. In the version with built-in display, the keypad is located horizontally underneath the display, without screen printing, thus allowing the functions associated with each button (and shown on the bottom row of the display) to be customised from screen to screen.
Documentation
Technical
Technical Leaflets

* Entries are ordered by date

Code
Description
Language
Date *
Release

Code

+050003325

Description

GATEWAY PER UMIDIFICAZIONE (Supernodo)/ GATEWAY FOR HUMIDIFICATION (Supernode)

Language

ENG FRE GER ITA SPA

Date

20/06/2014

Release

1.0

Code

+050003331

Description

supernode: contrôle électronique/ Elektronische Steuerung

Language

FRE GER

Date

15/04/2010

Release

3.0

Code

+050003332

Description

supernode: controle eletrônico/ electronic controller

Language

ENG POR

Date

15/04/2010

Release

3.0

Code

+050003330

Description

supernode: controllo elettronico electronic controller

Language

ENG ITA

Date

15/04/2010

Release

3.0

Code

+05C003330

Description

supernode: 电子控制器

Language

CHI

Date

15/04/2010

Release

3.0
Commercial
Brochure

* Entries are ordered by date

Code
Description
Language
Date *
Release

Code

+302240491

Description

Exhibition at a glance

Language

ENG

Date

12/02/2014

Release

4.2

Code

+302240490

Description

looking at the future

Language

ITA

Date

01/10/2012

Release

4.1

Code

+302240565

Description

Supernode: controle programável para a conectividade

Language

POR

Date

01/07/2010

Release

1.1

Code

+302240564

Description

Supernode: controlador programable para la conectividad

Language

SPA

Date

01/07/2010

Release

1.1

Code

+302240563

Description

Supernode: Programmierbare Steuerung für serielle Verbindungen

Language

GER

Date

01/07/2010

Release

1.1

Code

+302240562

Description

Supernode: contrôle programmable pour la connectivité

Language

FRE

Date

01/07/2010

Release

1.1

Code

+302240560

Description

Supernode: controllo programmabile per la connettività

Language

ITA

Date

01/07/2010

Release

1.1

Code

+302240630

Description

La connettività, una guida per la supervisione

Language

ITA

Date

15/10/2008

Release

1.0

Code

+302240634

Description

La conectividad, una guía para la supervisión

Language

SPA

Date

15/10/2008

Release

1.0

Code

+302240632

Description

La connectivité, guide pour la supervision

Language

FRE

Date

15/10/2008

Release

1.0

Code

+302240631

Description

Connectivity, a guide for supervision

Language

ENG

Date

15/10/2008

Release

1.0