EVD Evolution Twin
EVD0000T**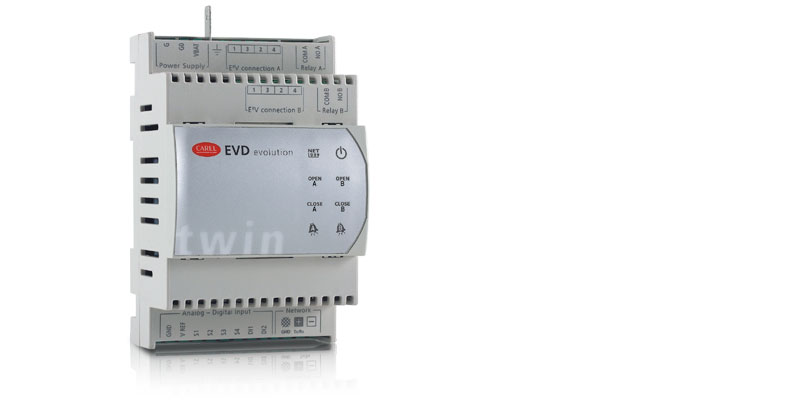 General characteristics

EVD Evolution Twin is a controller comprising two drivers for two-pole stepper motors that can independently manage two electronic expansion valves.

The device is designed for DIN rail mounting and comes with plug-in screw terminals. Each driver can control refrigerant superheat and optimise refrigerant circuit performance, and at the same time guarantee maximum system flexibility, being compatible with various types of refrigerants and valves, in applications that use chillers, air-conditioners and refrigeration units, including subcritical and transcritical CO2 systems.

Main functions:

independent management of two electronic expansion valves;
superheat control with high pressure, low pressure and low superheat protection;
special functions such as hot gas bypass, evaporator pressure regulation (EPR) and control of the valve downstream of the gas cooler in transcritical CO2 circuits;
superheat control optimisation for air-conditioning units fitted with digital scroll compressors, when suitably connected to a specific CAREL controller via LAN, with the possibility to activate one or more tuning procedures;
assisted start-up procedure, selecting just 4 parameters (or just three if using the device to control Carel valves);
removable graphic LCD, multi-language interface with online help for the parameters and SI or imperial units of measure;
copy configuration parameters from one EVD Evolution Twin controller to another from the removable display;
user management with password to access different configuration levels;
use of low-power ratiometric pressure transducers with 4 to 20 mA output (these can be shared between up to 5 drivers), useful in multiplexed applications;
advanced alarm management.
Documentation
Technical
2D/3D drawings

* Entries are ordered by date

Code
Description
Language
Date *
Release

Code

EVD Evolution Twin

Description

2D-3D drawings

Language

ALL

Date

17/03/2023

Release

R0

Code

EVD Evolution Twin w Display

Description

2D-3D drawings

Language

ALL

Date

09/03/2023

Release

R0

Manuals

* Entries are ordered by date

Code
Description
Language
Date *
Release

Code

+0300006CS

Description

EVD evolution twin Ovladač pro 2 elektronické expanzní ventily

Language

CZE

Date

20/10/2023

Release

2.9

Code

+0300006DE

Description

EVD evolution twin Treiber für 2 elektronische Expansionsventile

Language

GER

Date

20/10/2023

Release

2.9

Code

+0300006EN

Description

EVD evolution twin Driver for 2 electronic expansion valves

Language

ENG

Date

20/10/2023

Release

2.9

Code

+0300006ES

Description

EVD evolution twin driver para 2 válvulas de expansión electrónica

Language

SPA

Date

20/10/2023

Release

2.9

Code

+0300006IT

Description

EVD evolution twin driver per 2 valvole di espansione elettronica

Language

ITA

Date

20/10/2023

Release

2.9

Code

+0300006RU

Description

EVD evolution twin Привод для 2х электронных расширительных вентилей

Language

RUS

Date

20/10/2023

Release

2.9

Code

+0300006ZH

Description

EVD evolution twin 用户手册 1个驱动器控制2个电子膨胀阀

Language

CHI ENG

Date

25/01/2013

Release

2.3

Technical Leaflets

* Entries are ordered by date

Code
Description
Language
Date *
Release

Code

+050004170

Description

EVD*T*, EVDIS* - EVD evolution TWIN- Driver per 2 valvole di espansione elettronica e display grafi co/ 2 electronic expansion valves driver and graphic display

Language

CHI ENG ITA RUS

Date

20/10/2023

Release

1.9

Code

+050004171

Description

EVD*T*, EVDIS* - EVD evolution - Electronic expansion valve driver and graphic display

Language

FRE GER POR SPA

Date

20/10/2023

Release

1.9
Images
High resolution images

* Entries are ordered by date

Code
Description
Language
Date *
Release

Code

PH09LEV301-EVD-evo-twin

Description

CAREL EVD Evolution Twin - Expansion valve driver - EEV Technology

Language

ALL

Date

11/03/2022

Release

R.0