EVD Evolution
EVD0000E**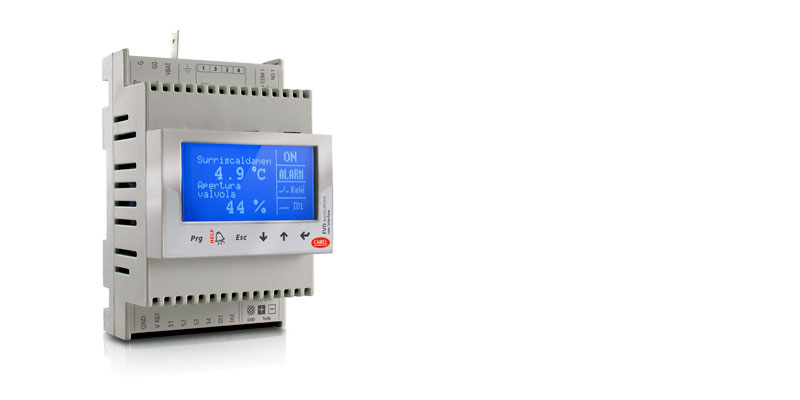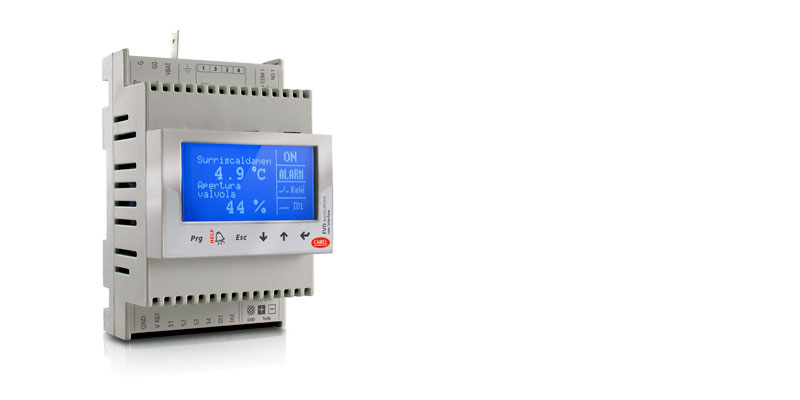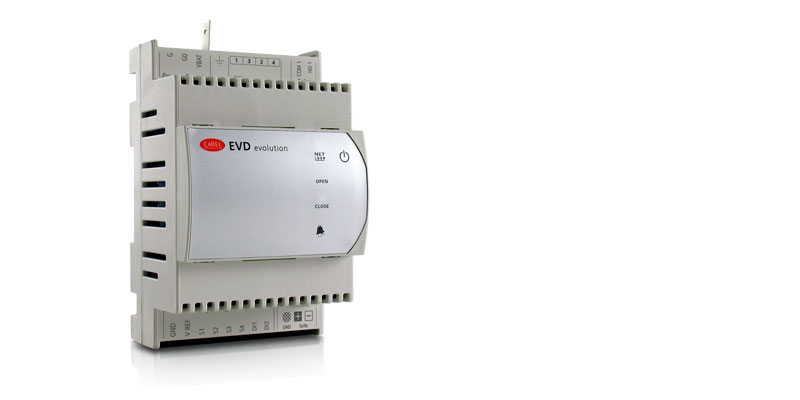 General characteristics

The EVD Evolution series electronic valve controllers are the latest stage in the development of the renowned CAREL drivers for superheat control.

Compared to the standard EVD drivers, these devices feature advanced functions and a new user interface that makes them even easier to use and configure.

A new graphic display and a simple programming procedure mean the controller can be started after selecting just four parameters (and just three if using the device to control Carel valves): refrigerant, valve mode, type of pressure probe and type of application (chiller, display case, etc.), chosen from a multiple choice menu.

Main functions:

superheat control with high pressure, low pressure and low superheat protection
assisted start-up procedure (selecting just 4 parameters)
connection diagram shown on the display
removable graphic LCD, multi-language interface with online help for the parameters and SI or imperial units of measure
user management with password to access different configuration levels
copy parameter values to different EVD devices from the display
LEDs for monitoring the main parameters
use of low-power ratiometric pressure transducers with 4 to 20 mA output (these can be shared between several drivers)
second digital input for defrost management
possibility to use backup probes

Combined with CAREL ExV series electronic expansion valves, the EVD Evolution drivers make up an integrated control system that optimises evaporator operation and obtains high energy savings.
Documentation
Technical
2D/3D drawings

* Entries are ordered by date

Manuals

* Entries are ordered by date

Code
Description
Language
Date *
Release

Code

+0300005DE

Description

EVD evolution Treiber für elektronisches Expansionsventil

Language

GER

Date

20/10/2023

Release

4.1

Code

+0300005EN

Description

EVD evolution electronic expansion valve driver

Language

ENG

Date

20/10/2023

Release

4.1

Code

+0300005ES

Description

EVD evolution driver para válvula de expansión electrónica

Language

SPA

Date

20/10/2023

Release

4.1

Code

+0300005FR

Description

EVD evolution pilote pour vanne d'expansion électronique

Language

FRE

Date

20/10/2023

Release

4.1

Code

+0300005IT

Description

EVD evolution driver per valvola di espansione elettronica

Language

ITA

Date

20/10/2023

Release

4.1

Code

+0300005PT

Description

EVD evolution driver para válvula de expansão eletrônica

Language

POR

Date

20/10/2023

Release

4.1

Code

+0300005RU

Description

EVD evolution Привод электронного расширительного вентиля

Language

RUS

Date

20/10/2023

Release

4.1

Code

+0300005CS

Description

EVD evolution Ovladač elektronického expanzního ventilu

Language

CZE

Date

20/10/2023

Release

4.1

Code

+0300005JA

Description

EVD evolution 電子膨張弁ドライバー

Language

JAP

Date

16/08/2013

Release

3.3

Technical Leaflets

* Entries are ordered by date

Code
Description
Language
Date *
Release

Code

+050004150

Description

EVD*, EVDIS* - EVD evolution - Driver per valvola di espansione elettronica e display grafi co/ Electronic expansion valve driver and graphic display

Language

ENG FRE ITA SPA

Date

20/10/2023

Release

3.1

Code

+050004151

Description

EVD*, EVDIS* - EVD evolution - Electronic expansion valve driver and graphic display

Language

CHI GER POR RUS

Date

20/10/2023

Release

3.1
Commercial
Other related documentation

* Entries are ordered by date

Code
Description
Language
Date *
Release

Code

+800004030

Description

Soluzioni per Unità Trattamento Aria: Tecnologia e competenza per la qualità dell'aria e il risparmio energetico

Language

ITA

Date

05/04/2023

Release

1.2

Code

+800004031

Description

Solutions for Air Handling Units: Technology and expertise for indoor air quality and energy saving

Language

ENG

Date

05/04/2023

Release

1.2
Images
High resolution images

* Entries are ordered by date

Code
Description
Language
Date *
Release

Code

PH08LEV301-EVD-evo-single

Description

CAREL EVD Evolution - Expansion valve driver - EEV Technology

Language

ALL

Date

11/03/2022

Release

R.0