E3V - B (hermetic)
E3V-B*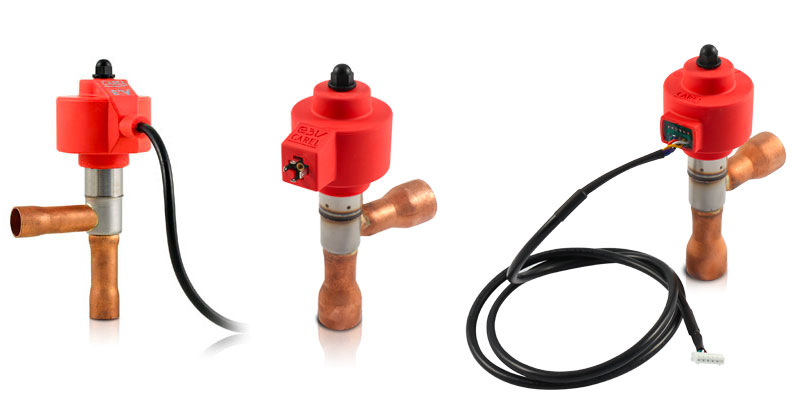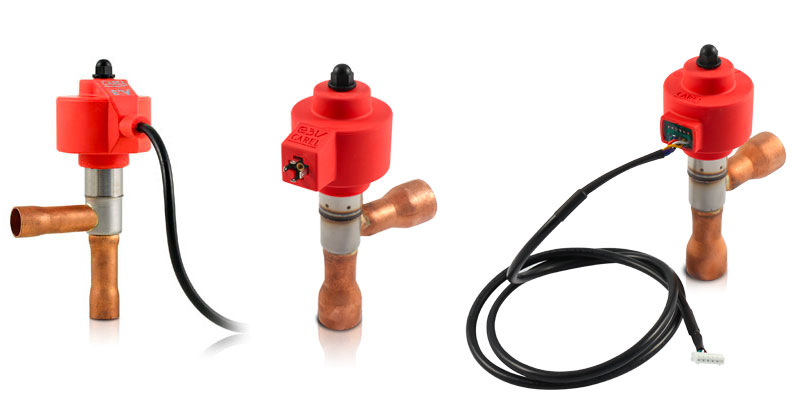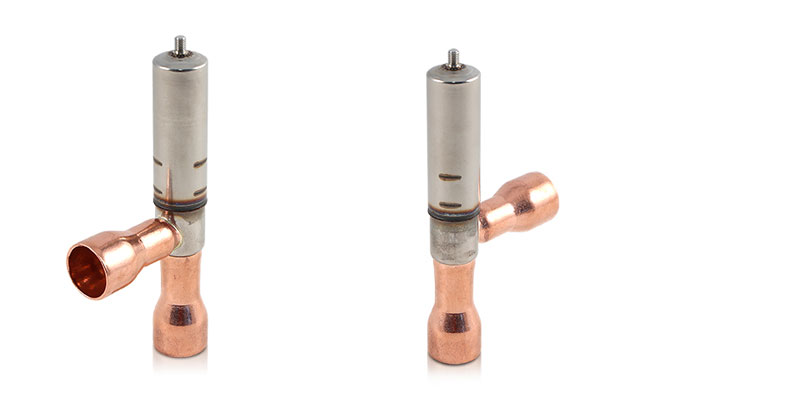 General characteristics

The CAREL E3V electronic expansion valves cover a range of cooling capacities up to 180kW, and represent the Carel solution for medium-capacity valves.
The E3V has been designed with special care to the minimum details, so as to ensure a wide control capacity and at the same time guarantee high reliability with fluid flow in both directions: the latter feature is especially useful and advantageous for heat pump applications.
This product has been designed to be installed as the expansion valve in refrigerant circuits, and uses a pressure probe and temperature probe to calculate superheat, which is used as the control signal.

Starting from July 2014, the E3V-B valve will progressively replace the E3V-A and E3V-U valves in the Carel E3V product line. The new range will feature five different sizes, three of which (45, 55, 65) fitted with two-pole motors, and two (35, 45) with single-pole motors. The main characteristic that will distinguish these valves from the previous versions is that the connections are completely welded; an additional strength is the versatility of the possible applications the valve can be used in.
Documentation
Technical
2D/3D drawings

* Entries are ordered by date

Technical Leaflets

* Entries are ordered by date

Code
Description
Language
Date *
Release

Code

+050001670

Description

E3V-B Valvola di espansione elettronica / Electronic expansion valve / Soupape à détente électrique / Elektronisches Expansionsventil / Válvula de expansión electrónica

Language

CHI ENG FRE GER ITA SPA

Date

30/03/2023

Release

2.0
Commercial
Brochure

* Entries are ordered by date

Code
Description
Language
Date *
Release

Code

+3000021ZH

Description

高效机组的集成解决方案

Language

CHI

Date

01/03/2010

Release

1.0

Other related documentation

* Entries are ordered by date

Code
Description
Language
Date *
Release

Code

+800004030

Description

Soluzioni per Unità Trattamento Aria: Tecnologia e competenza per la qualità dell'aria e il risparmio energetico

Language

ITA

Date

05/04/2023

Release

1.2

Code

+800004031

Description

Solutions for Air Handling Units: Technology and expertise for indoor air quality and energy saving

Language

ENG

Date

05/04/2023

Release

1.2
Images
High resolution images

* Entries are ordered by date

Code
Description
Language
Date *
Release

Code

PH14LE3301-E3V-b-unipolar

Description

CAREL E3V - B (hermetic) - Electronic expansion valve - ExV - EEV Technology

Language

ALL

Date

11/03/2022

Release

R.0

Code

PH17LE3303-E3V-b-bipolar

Description

CAREL E3V - B (hermetic) - Electronic expansion valve - ExV - EEV Technology

Language

ALL

Date

11/03/2022

Release

R.0

Code

PH17LE3304-E3V-b-unipolar

Description

CAREL E3V - B (hermetic) - Electronic expansion valve - ExV - EEV Technology

Language

ALL

Date

11/03/2022

Release

R.0

Code

PH17LE3301-E3V-b-withoutstator

Description

CAREL E3V - B (hermetic) - Electronic expansion valve - ExV - EEV Technology

Language

ALL

Date

11/03/2022

Release

R.0

Code

PH17LE3302-E3V-b-withoutstator-rear

Description

CAREL E3V - B (hermetic) - Electronic expansion valve - ExV - EEV Technology

Language

ALL

Date

11/03/2022

Release

R.0