tService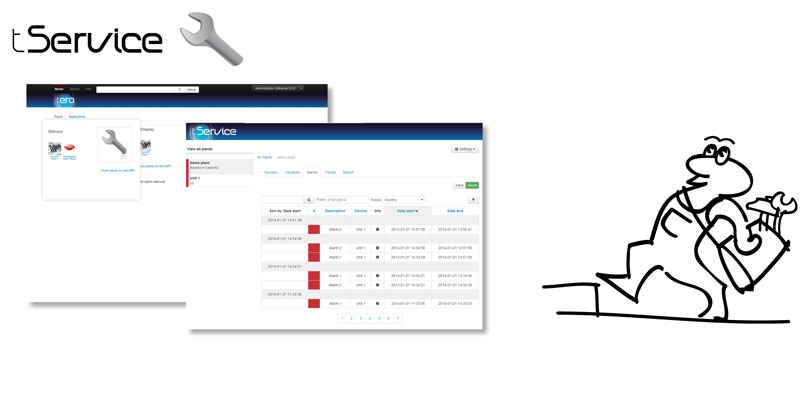 General characteristics

A subscription to tERA offers a simple and immediate connectivity to the system,
You can freely choose which communication channel to use in the system: the platform uses either the UMTS wireless channel or Ethernet, with safe and reliable solutions.

You can access all the information of the site through any device you have: a PC in your office or you smartphone or tablet wherever your job takes you.

The solution adapts to the typical needs of machine analysis and grows proportionally to the business generated: you can start from the analysis of a few installations and then choose to compare the data of thousands of systems with more and more detailed information. tService is the service of the tERA platform dedicated to the service centre. tService makes maintenance faster and more efficient with a solution ready for remote control and suitable for the service centres. Functions available by activating tService:

Reading and writing of variables in real time

History with frequencies up to 5''

Alarm management with notification via e-mail

Reports and graphs up to 300 variables

Live-Trend

SW programmable controls update

Plus

Reduction of maintenance costs thanks to the remote analysis of the operation of the system.

Improvement of the level of service to the end customer thanks to the reduced time for troubleshooting.
Documentation
Technical
Manuals

* Entries are ordered by date

Code
Description
Language
Date *
Release

Code

+030222140

Description

tERA - Guida Rapida per il primo avvio

Language

ITA

Date

26/05/2017

Release

2.6

Code

+030222141

Description

tERA - Quick Guide for the first startup

Language

ENG

Date

26/05/2017

Release

2.6

Code

+030222143

Description

tERA - Kurzanleitung für erste Inbetriebnahme

Language

GER

Date

26/05/2017

Release

2.6

Code

+030222144

Description

tERA - Guía Rápida para la primera puesta en marcha

Language

SPA

Date

26/05/2017

Release

2.6

Code

+030222142

Description

tERA - Guide de mise en route

Language

FRE

Date

16/06/2014

Release

2.5

Technical Leaflets

* Entries are ordered by date

Code
Description
Language
Date *
Release

Code

+050001038

Description

tERA Connect Box 2G/3G

Language

ENG ITA

Date

18/05/2017

Release

1.0

Code

+050001640

Description

tERA Connect Box Ethernet

Language

ENG ITA

Date

15/10/2013

Release

1.1
Commercial
Brochure

* Entries are ordered by date

Code
Description
Language
Date *
Release

Code

+3000044ZH

Description

tERA 现在开始服务时代

Language

CHI

Date

01/10/2012

Release

2.0

Code

+3000014DE

Description

Die integrierte Lösung für die Klimatechnik

Language

GER

Date

01/10/2012

Release

1.0

Code

+3000014EN

Description

the integrated solution for air handling unit control

Language

ENG

Date

01/10/2012

Release

1.0

Code

+3000014IT

Description

la soluzione integrata per il controllo delle centrali trattamento aria

Language

ITA

Date

01/10/2012

Release

1.0

Code

+3000044DE

Description

tERA: Die Dienstleistungs-Ära beginnt

Language

GER

Date

01/10/2012

Release

2.0

Code

+3000044EN

Description

tERA: the service ERA starts now

Language

ENG

Date

01/10/2012

Release

2.0

Code

+3000044IT

Description

tERA: l'ERA del servizio parte ora

Language

ITA

Date

01/10/2012

Release

2.0

Code

+3000051DE

Description

tService Rack - Technologie unter Kontrolle

Language

GER

Date

01/10/2012

Release

1.0

Code

+3000051EN

Description

tService Rack - Technology under control

Language

ENG

Date

01/10/2012

Release

1.0

Code

+3000051IT

Description

tService Rack - La tecnologia sotto controllo

Language

ITA

Date

01/10/2012

Release

1.0

Code

+3000052DE

Description

Fernwirklösungen für Ihre neuen Dienstleistungen

Language

GER

Date

01/10/2012

Release

1.0

Code

+3000052EN

Description

Remote control of your new services

Language

ENG

Date

01/10/2012

Release

1.0

Code

+3000052IT

Description

Il controllo remoto dei tuoi nuovi servizi

Language

ITA

Date

01/10/2012

Release

1.0

Code

+3000053DE

Description

Die Anlage unter Kontrolle: Einfaches und wirtschaftliches Warten und Überwachen

Language

GER

Date

01/10/2012

Release

1.0

Code

+3000053EN

Description

Systems under control: simple and low-cost service and monitoring

Language

ENG

Date

01/10/2012

Release

1.0

Code

+3000053IT

Description

L'impianto sotto controllo: manutenzione e monitoraggio semplice ed economico

Language

ITA

Date

01/10/2012

Release

1.0

Code

+3000044ES

Description

tERA: La ERA del servicio comienza ahora

Language

SPA

Date

01/03/2012

Release

1.0

Other related documentation

* Entries are ordered by date

Code
Description
Language
Date *
Release

Code

+800004030

Description

Soluzioni per Unità Trattamento Aria: Tecnologia e competenza per la qualità dell'aria e il risparmio energetico

Language

ITA

Date

05/04/2023

Release

1.2

Code

+800004031

Description

Solutions for Air Handling Units: Technology and expertise for indoor air quality and energy saving

Language

ENG

Date

05/04/2023

Release

1.2

Code

+3000224EN

Description

Educational - Make the best use of HVAC/R application technologies and systems

Language

ENG

Date

24/01/2022

Release

1.1

Code

+3000224IT

Description

Educational - Utilizzare nel modo migliore tecnologie e sistemi delle applicazioni HVAC/R

Language

ITA

Date

24/01/2022

Release

1.1

Success Story

* Entries are ordered by date

Code
Description
Language
Date *
Release

Code

+4000017EN

Description

The tERA service platform technology and Blue Box service professionalism and experience, at the customer's service

Language

ENG

Date

20/03/2012

Release

1.0